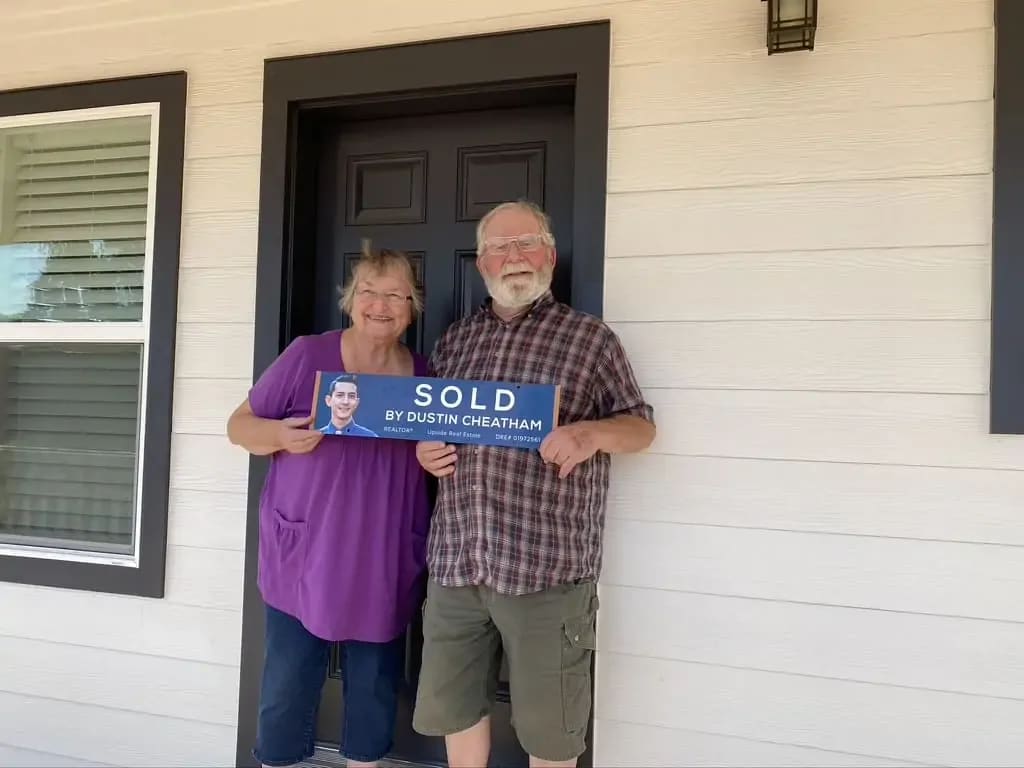 Pat and Paul Rassmusen feeling grateful that homes do NOT sell themselves
Maybe you've heard the expression in a sellers market that, "real estate sells itself". Have you wondered if that's true? Do all the homes selling at neck-break speed for over asking, sell without much effort required of agents or sellers? I sold the Rasmussens, the beautiful couple pictured here, a new home that was being built by a builder in Paradise. This couple personified good values – easily the most gracious people I've served ever. But during construction of that home the builder poured the concrete foundation incorrect dimensions! And not only that, due to supply delays and labor shortages the builder would not be able to finish the home by even the latest estimate they had given previously. It was a devastating blow because my buyers had already sold their home in Oregon and needed a place to live in just a few weeks. Not months! I had to cancel escrow and pivot immediately to find this couple another home – in a seller's market!
I showed them a dozen homes over 2 days and not one home would work for their needs. But I persevered and through word of mouth discovered a brand new home in Paradise nearly complete and being sold by the owner/builder without a listing brokerage. I contacted the seller, arranged a showing for my clients, successfully negotiated a purchase price and contract, and negotiated my own compensation since the property was not on the market. My buyers and the seller signed a purchase contract and we opened escrow about a week after canceling the first home. Cash, no loan, and no appraisal. Amazing, right! Yes and, guess what? This second home did not sell itself. No it didn't! And I was even doing all the extra mile things which clients care so much about. I can tell you that the owner/builder almost blew the deal on us two times getting so frustrated by state required disclosures early on and again by being ticked off by the title insurance company requirements one day before we were scheduled to close. This came to a critical moment where the buyers and I sat in the bathroom of the new house on the toilet and the bath tub – hey, there were no chairs – and we faced the most certain fate of having to start all over again a third time but with no time left on their clock. It was the lowest point of all. What did I do with buyers that are facing homelessness, a seller stressed beyond belief, and pressure as their real estate agent to just make everyone happy? Here is what I did. I dug down deep and I helped. I called the Seller right there from the bathroom of the house. With the brightest attitude I helped both parties understand their options and their duties to one another. The seller didn't give in easy – he needed to make several calls and jump through hoops. We had to wait and see what could be done by the next day.
We closed it! The seller called me after the sale to thank me for being patient and tell me it truly warmed their hearts for such a sweet couple to have the home they built. My buyers now own their perfect home and are sleeping soundly in it tonight! It was a house hunt for the history books. Friendships made that will last my lifetime.
It almost didn't happen two times for these truly special folks. But working harder, a lot of prayer, and more communication is what got it done! Often people go along with the expression that a house sells itself. But I am grateful homes do not sell themselves. Otherwise I would miss out on such important ranges of emotions and feelings in life. By relentlessly working to provide housing – which is a need – I get the privilege of being connected to people – which is also a need. People need to know that they matter and they want to be where they feel like they belong. We provide clients with support and always look to add value at Upside Real Estate. If you're a home buyer, seller, or a Realtor® looking to belong, please
contact us
.